Securonix Security Orchestration, Automation, and Response (SOAR) helps security operations teams improve their incident response times by providing automation that adds context and suggesting playbooks and next steps to guide analysts. SOAR optimizes orchestration by streamlining incident response with built-in case management, integrations covering over 275 applications, and seamless access to your SIEM, UEBA, and network detection and response (NDR) solutions in a single pane of glass.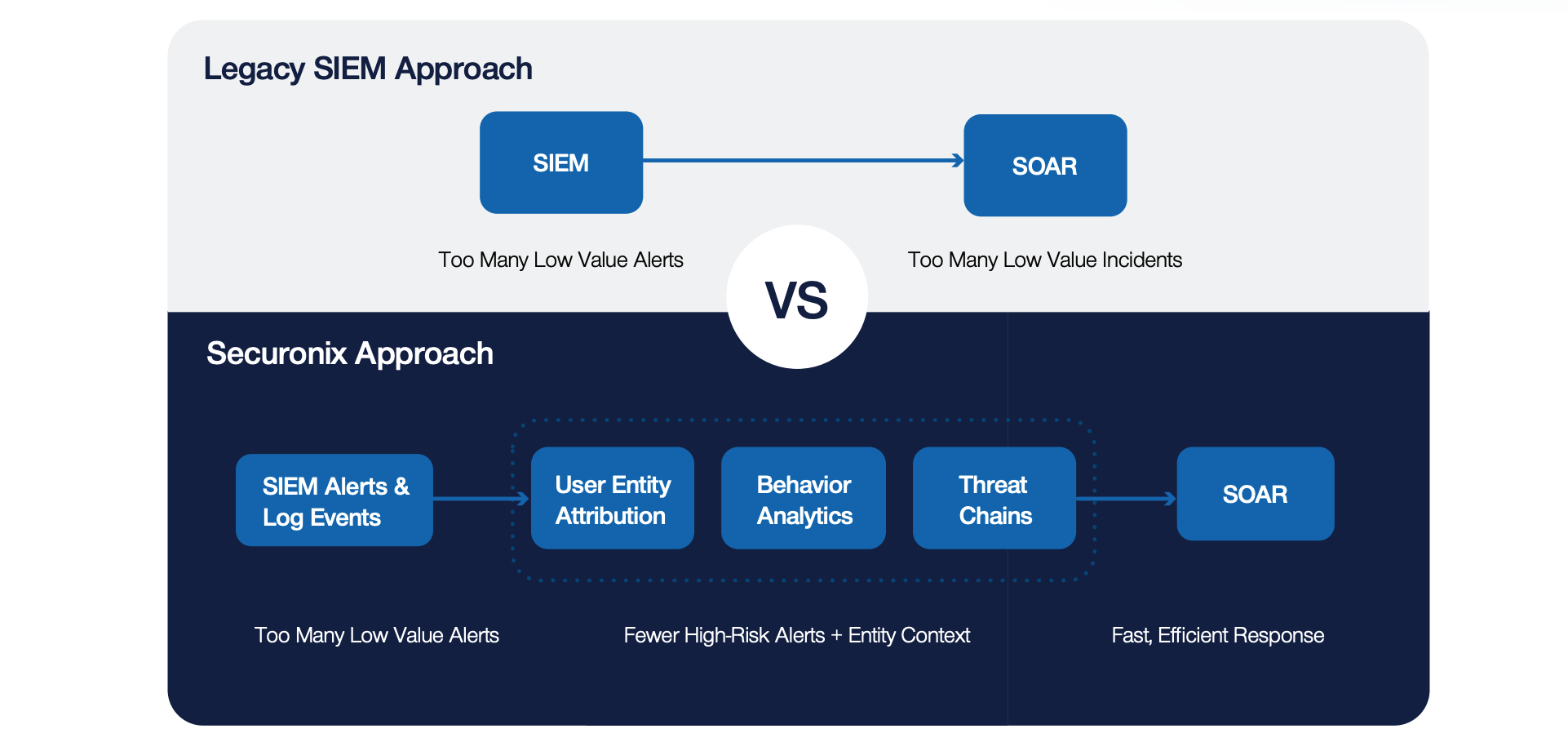 · Prioritize Threats Using a Centralized Solution
Single Source of Truth: Stop switching across disparate tools. With Securonix SOAR you have a single-pane-of-glass, integrated view across your entire security environment, allowing your security operations center (SOC) to quickly identify and respond to incidents.
Integrations with Over 275 Connectors: CISOs need security tools that integrate with their entire tech stack in order to provide the best ROI and save their team time when responding to incidents. Securonix SOAR works seamlessly with our SIEM and UEBA solutions, and with over 275 popular security and IT applications.
· Intelligent Automated Incident Response
Built-In Playbook Actions: Securonix SOAR provides automated incident orchestration and response with 275+ connectors and 3000+ playbook actions. Securonix playbooks are provided out of the box and are fully customizable. They provide you the means to automate or partially automate the actions you take in response to an incident.
Machine Learning: Securonix SOAR uses machine learning to learn from senior analysts so that it can make recommendations on next steps to take during incident response and even automate future response actions. Improve operational efficiency when automation and orchestration is applied to prioritized, high-risk threats instead of low-value alerts.
· Track and Improve Incident Response
Case Management: Analysts benefit from an incident workflow that is trackable. Case management can be used to show investigation steps for a compliance audit, data breach, or for internal training.
Incident Response Reporting: SOC managers need the ability to understand how response times improve over time. Incident response metrics help them understand and improve their performance. Securonix SOAR provides a measurable ROI and metrics on resolved incidents, mean dwell time, mean time to respond, playbooks and action run, as well as time and cost savings.
Watch How Securonix Detects Insider Threats in Real-Time
Pricing Information:
Contact Us to architect best & competitive solution meeting your personalized requirements.
Ready to get your hands on SOAR?
Enable GingerCannot connect to Ginger Check your internet connection
or reload the browserDisable in this text fieldRephraseRephrase current sentenceEdit in Ginger×
Enable GingerCannot connect to Ginger Check your internet connection
or reload the browserDisable in this text fieldRephraseRephrase current sentenceEdit in Ginger×
Enable GingerCannot connect to Ginger Check your internet connection
or reload the browserDisable in this text fieldRephraseRephrase current sentenceEdit in Ginger×
Enable GingerCannot connect to Ginger Check your internet connection
or reload the browserDisable in this text fieldRephraseRephrase current sentenceEdit in Ginger×
Enable GingerCannot connect to Ginger Check your internet connection
or reload the browserDisable in this text fieldRephraseRephrase current sentenceEdit in Ginger×
Enable GingerCannot connect to Ginger Check your internet connection
or reload the browserDisable in this text fieldRephraseRephrase current sentenceEdit in Ginger×
Enable GingerCannot connect to Ginger Check your internet connection
or reload the browserDisable in this text fieldRephraseRephrase current sentenceEdit in Ginger×
Enable GingerCannot connect to Ginger Check your internet connection
or reload the browserDisable in this text fieldRephraseRephrase current sentenceEdit in Ginger×
Enable GingerCannot connect to Ginger Check your internet connection
or reload the browserDisable in this text fieldRephraseRephrase current sentenceEdit in Ginger×
Enable GingerCannot connect to Ginger Check your internet connection
or reload the browserDisable in this text fieldRephraseRephrase current sentenceEdit in Ginger×
Enable GingerCannot connect to Ginger Check your internet connection
or reload the browserDisable in this text fieldRephraseRephrase current sentenceEdit in Ginger×
Enable GingerCannot connect to Ginger Check your internet connection
or reload the browserDisable in this text fieldRephraseRephrase current sentenceEdit in Ginger×
Enable GingerCannot connect to Ginger Check your internet connection
or reload the browserDisable in this text fieldRephraseRephrase current sentenceEdit in Ginger×
Enable GingerCannot connect to Ginger Check your internet connection
or reload the browserDisable in this text fieldRephraseRephrase current sentenceEdit in Ginger×
Enable GingerCannot connect to Ginger Check your internet connection
or reload the browserDisable in this text fieldRephraseRephrase current sentenceEdit in Ginger×
Enable GingerCannot connect to Ginger Check your internet connection
or reload the browserDisable in this text fieldRephraseRephrase current sentenceEdit in Ginger×
Enable GingerCannot connect to Ginger Check your internet connection
or reload the browserDisable in this text fieldRephraseRephrase current sentenceEdit in Ginger×
Enable GingerCannot connect to Ginger Check your internet connection
or reload the browserDisable in this text fieldRephraseRephrase current sentenceEdit in Ginger×
Enable GingerCannot connect to Ginger Check your internet connection
or reload the browserDisable in this text fieldRephraseRephrase current sentenceEdit in Ginger×
Enable GingerCannot connect to Ginger Check your internet connection
or reload the browserDisable in this text fieldRephraseRephrase current sentenceEdit in Ginger×