Traditional EDR in a world of sophisticated and advanced attacks cannot keep up. Cybereason EDR consolidates intelligence about each attack into a contextualized view of the full attack narrative to deliver correlated attack data in an easy-to-read, interactive graphical interface called a Malop (malicious operation) which allows implementation of remediation actions automatically or manually with a click of the mouse.
· Breach Protection Warranty
Cybereason stands beside defenders with up to $1 Million in coverage in the event of a breach in your environment.
· Power to Stop Advanced Adversaries
Leverage file and YARA-based queries investigate at scale with real-time telemetry, and surgically respond to reduce mean time to remediate.
· Managed Detection & Response
Cybereason Ultimate includes incident containment 24x7 and proactive threat hunting to eliminate threats and deliver root cause analysis.
UNITED PROTECTION FROM ENDPOINT TO EVERYWHERE
The Cybereason Defense Platform moves beyond endless alerting to instead recognize, expose, and end malicious operations before they take hold. The result: Defenders can end attacks in minutes.
CYBEREASON DEFENSE PLATFORM
Unified Protection from the Endpoint, across the Enterprise, to Everywhere.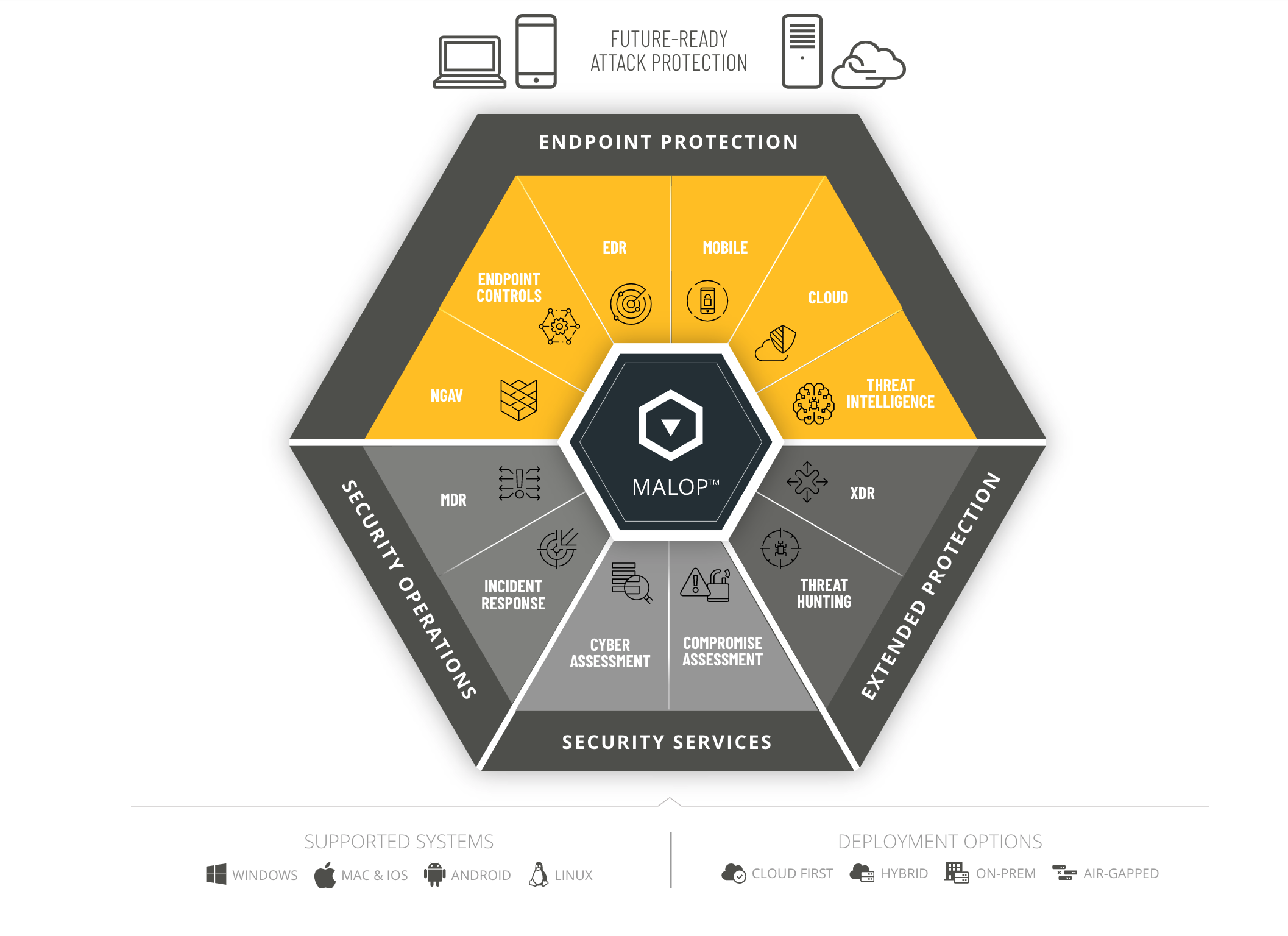 I

NTERCEPT MALOPS, DON'T CHASE ALERTS
Move beyond alerting with operation-centric security that leverages the Cybereason Malop for multi-stage visualizations of attack sequences that are context-rich and correlated from root cause across every affected device and user.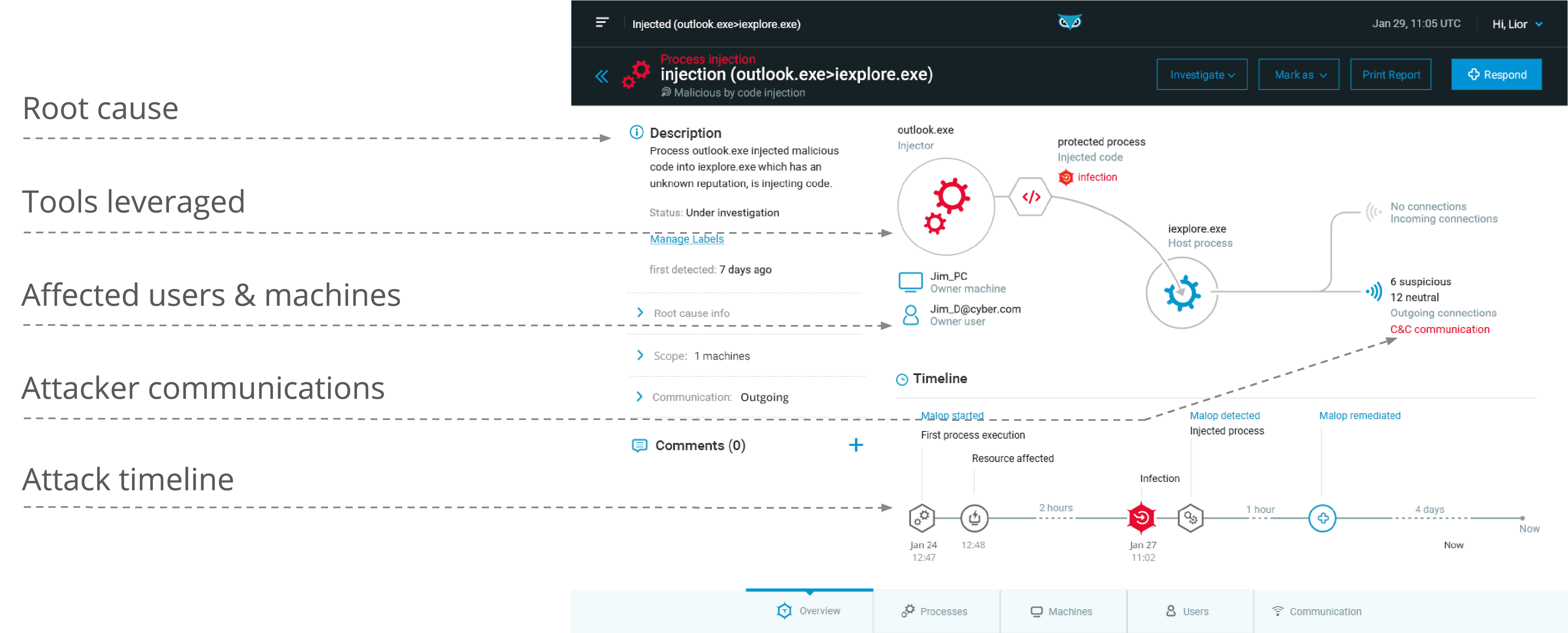 Cybereason: We are the Defenders. First to your fight
Pricing Information:
Contact Us to architect best & competitive solution meeting your personalized requirements.
Ready to get your hands on the EDR solution ?
Enable GingerCannot connect to Ginger Check your internet connection
or reload the browserDisable in this text fieldRephraseRephrase current sentenceEdit in Ginger×
Enable GingerCannot connect to Ginger Check your internet connection
or reload the browserDisable in this text fieldRephraseRephrase current sentenceEdit in Ginger×
Enable GingerCannot connect to Ginger Check your internet connection
or reload the browserDisable in this text fieldRephraseRephrase current sentenceEdit in Ginger×
Enable GingerCannot connect to Ginger Check your internet connection
or reload the browserDisable in this text fieldRephraseRephrase current sentenceEdit in Ginger×
Enable GingerCannot connect to Ginger Check your internet connection
or reload the browserDisable in this text fieldRephraseRephrase current sentenceEdit in Ginger×
Enable GingerCannot connect to Ginger Check your internet connection
or reload the browserDisable in this text fieldRephraseRephrase current sentenceLog in to edit with Ginger×
Enable GingerCannot connect to Ginger Check your internet connection
or reload the browserDisable in this text fieldRephraseRephrase current sentenceEdit in Ginger×
Enable GingerCannot connect to Ginger Check your internet connection
or reload the browserDisable in this text fieldRephraseRephrase current sentenceEdit in Ginger×
Enable GingerCannot connect to Ginger Check your internet connection
or reload the browserDisable in this text fieldRephraseRephrase current sentenceEdit in Ginger×
Enable GingerCannot connect to Ginger Check your internet connection
or reload the browserDisable in this text fieldRephraseRephrase current sentenceEdit in Ginger×
Enable GingerCannot connect to Ginger Check your internet connection
or reload the browserDisable in this text fieldRephraseRephrase current sentenceEdit in Ginger×
Enable GingerCannot connect to Ginger Check your internet connection
or reload the browserDisable in this text fieldRephraseRephrase current sentenceEdit in Ginger×
Enable GingerCannot connect to Ginger Check your internet connection
or reload the browserDisable in this text fieldRephraseRephrase current sentenceEdit in Ginger×