Email attacks are getting more complex and dangerous.
Email attacks are becoming increasingly complex, with many designed to target users and bypass email security gateways. You need to stay ahead of cyber criminals to protect your business and data.
Only Barracuda protects against all 13 email threat types.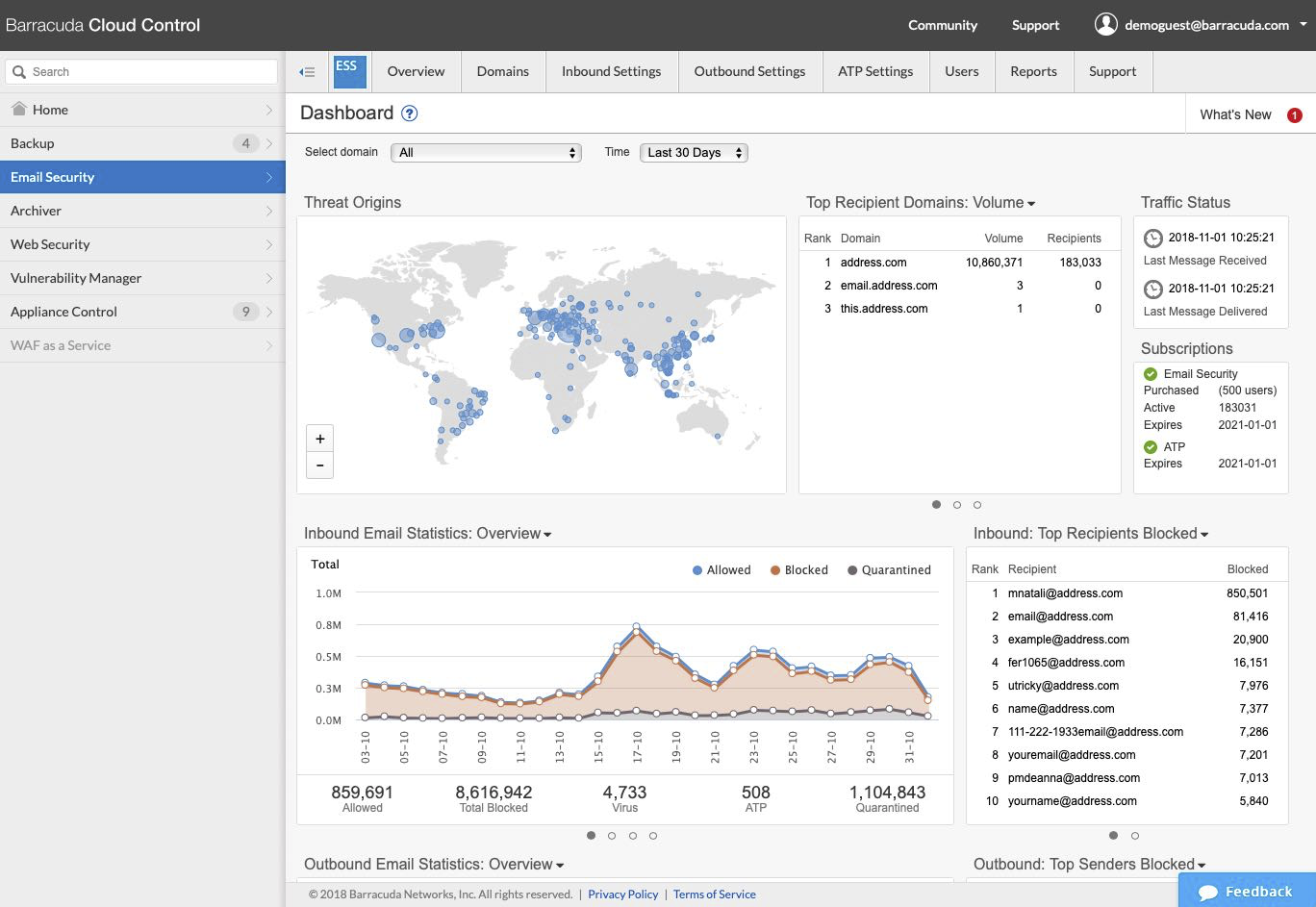 Barracuda Total Email Protection provides the most comprehensive protection against all 13 email threats types, from spam and ransomware to socially engineered threats such as spear phishing, business email compromise and account takeover.
· Prevent
Prevent email attacks from getting through by combining email gateway defenses, API-based inbox Defense, and security awareness training.
· Detect
Identify suspicious activity and email threats already inside your email environment before they can cause damage.
· Respond
Limit the impact of any threats that reach users with automated response and fast recovery tools.
Protect your business from email borne cyberthreats:
Pricing Information:
Contact Us to architect best & competitive solution meeting your personalized requirements.
Ready to get your hands on our Email Security ?
Book your POC & Take an Ultimate Test Drive.
Enable GingerCannot connect to Ginger Check your internet connection
or reload the browserDisable in this text fieldRephraseRephrase current sentenceEdit in Ginger×
Enable GingerCannot connect to Ginger Check your internet connection
or reload the browserDisable in this text fieldRephraseRephrase current sentenceEdit in Ginger×
Enable GingerCannot connect to Ginger Check your internet connection
or reload the browserDisable in this text fieldRephraseRephrase current sentenceEdit in Ginger×
Enable GingerCannot connect to Ginger Check your internet connection
or reload the browserDisable in this text fieldRephraseRephrase current sentenceEdit in Ginger×
Enable GingerCannot connect to Ginger Check your internet connection
or reload the browserDisable in this text fieldRephraseRephrase current sentenceEdit in Ginger×
Enable GingerCannot connect to Ginger Check your internet connection
or reload the browserDisable in this text fieldRephraseRephrase current sentenceEdit in Ginger×
Enable GingerCannot connect to Ginger Check your internet connection
or reload the browserDisable in this text fieldRephraseRephrase current sentenceEdit in Ginger×
Enable GingerCannot connect to Ginger Check your internet connection
or reload the browserDisable in this text fieldRephraseRephrase current sentenceEdit in Ginger×
Enable GingerCannot connect to Ginger Check your internet connection
or reload the browserDisable in this text fieldRephraseRephrase current sentenceEdit in Ginger×
Enable GingerCannot connect to Ginger Check your internet connection
or reload the browserDisable in this text fieldRephraseRephrase current sentenceEdit in Ginger×
Enable GingerCannot connect to Ginger Check your internet connection
or reload the browserDisable in this text fieldRephraseRephrase current sentenceEdit in Ginger×
Enable GingerCannot connect to Ginger Check your internet connection
or reload the browserDisable in this text fieldRephraseRephrase current sentenceEdit in Ginger×