The Certified Penetration Testing Professional (CPENT) program by EC-Council was created to prepare those that want to be recognized as elite penetration testing professionals. Our training has been designed by the best in the industry and is meant to push you to develop the kind of skill that you've been waiting to acquire.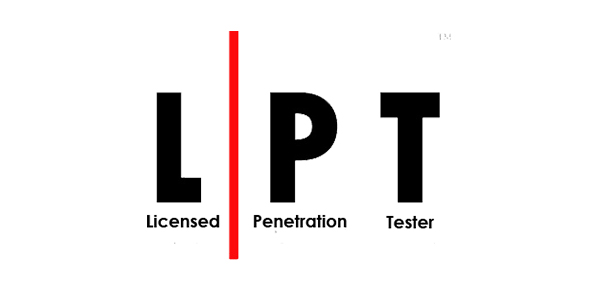 LPT (Master) training (via CPENT) is not comfortable (and the exam is even worse!), but filled with intense stress meant to elicit the best from you. Those who prevail will have developed an instinctual response to real-world penetration testing challenges.
In this training program, you will learn professional security and penetration testing skills. The course is designed to show advanced concepts like advanced windows attacks, attacking IoT systems, and writing exploits with advanced binary exploitation to go beyond flat networks. You will learn to bypass a filtered network, pentest OT systems, access hidden networks with pivoting, double pivot, escalate privilege, and evade defense mechanisms.
An LPT (Master) certified professional can:
Demonstrate a repeatable and measurable approach to penetration testing

Perform advanced techniques and attacks to identify SQL injection, Cross-site scripting (XSS), LFI, RFI vulnerabilities in web applications

Submit a professional and industry-accepted report that achieves management and technical buy-in

Get access to proprietary EC-Council penetration testing methodologies

Write exploit codes to gain access to a vulnerable system or application

Exploit vulnerabilities in Operating systems such as Windows, Linux

Perform privilege escalation to gain root access to a system

Demonstrate 'Out-of-the-box' and 'lateral' thinking

Ensure the integrity and value of the penetration testing certification, in a fully online, remotely proctored certification exam
EC-Council Advance Penetration testing Program:
Pricing Information:
Contact Us
to architect best & competitive trainings meeting your personalized requirements.
Ready to get your hands on the

LPT (Master) training program

?
Enable GingerCannot connect to Ginger Check your internet connection
or reload the browserDisable in this text fieldRephraseRephrase current sentenceEdit in Ginger×
Enable GingerCannot connect to Ginger Check your internet connection
or reload the browserDisable in this text fieldRephraseRephrase current sentenceEdit in Ginger×
Enable GingerCannot connect to Ginger Check your internet connection
or reload the browserDisable in this text fieldRephraseRephrase current sentenceEdit in Ginger×
Enable GingerCannot connect to Ginger Check your internet connection
or reload the browserDisable in this text fieldRephraseRephrase current sentenceEdit in Ginger×
Enable GingerCannot connect to Ginger Check your internet connection
or reload the browserDisable in this text fieldRephraseRephrase current sentenceEdit in Ginger×
Enable GingerCannot connect to Ginger Check your internet connection
or reload the browserDisable in this text fieldRephraseRephrase current sentenceEdit in Ginger×
Enable GingerCannot connect to Ginger Check your internet connection
or reload the browserDisable in this text fieldRephraseRephrase current sentenceEdit in Ginger×
Enable GingerCannot connect to Ginger Check your internet connection
or reload the browserDisable in this text fieldRephraseRephrase current sentenceEdit in Ginger×
Enable GingerCannot connect to Ginger Check your internet connection
or reload the browserDisable in this text fieldRephraseRephrase current sentenceEdit in Ginger×