Securing the modern enterprise means protecting a complex web of workloads consisting of hardware, applications, and data spread across edge, core, remote workforce, and cloud deployments.
With Vectra Cognito platform for NDR
is in 100% service of detecting and responding to attacks
inside
cloud, data center, IoT, and enterprise networks. Our job is to find and stop those attacks early and with certainty. The Cognito platform meets SOC 2 Type 2 compliance standards, ensuring the security and confidentiality of our partners' and customers' data.
Detect and Response Platform
Vectra Cognito is a network detection and response platform that uses artificial intelligence to detect attacker behavior and protect both hosts and users from being compromised. Vectra Cognito provides high fidelity alerts and does not decrypt data so you can be secure and maintain privacy whether that's in the cloud, data center, enterprise networks, or IoT devices.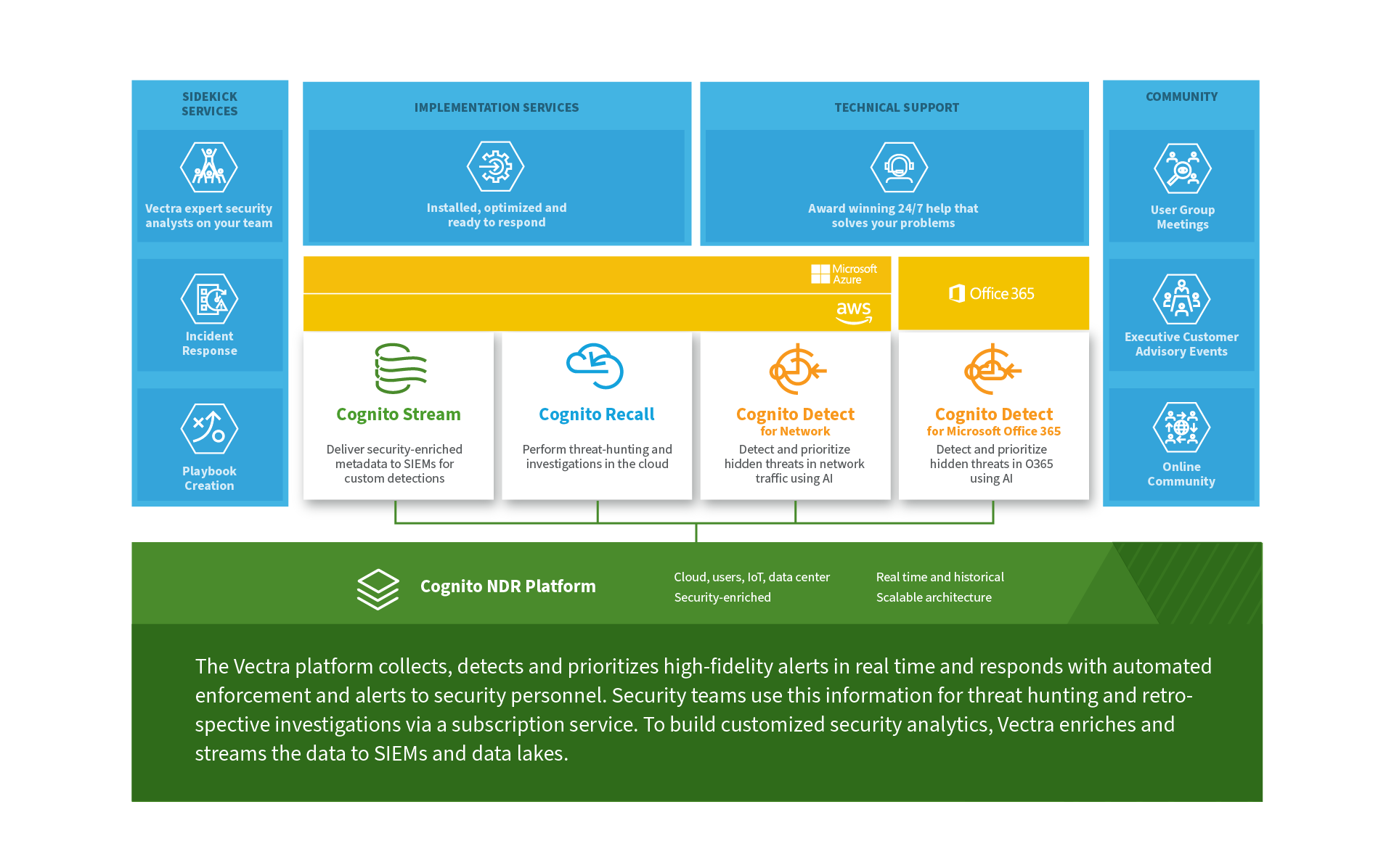 Benefits of Using the Vectra Cognito Platform
Cognito is an open platform that takes an API-first approach and strives to be partner- and vendor-neutral. This
enables security professionals to leverage best-in-class solutions to build topflight security infrastructures that provide 360-degree visibility on a massive scale.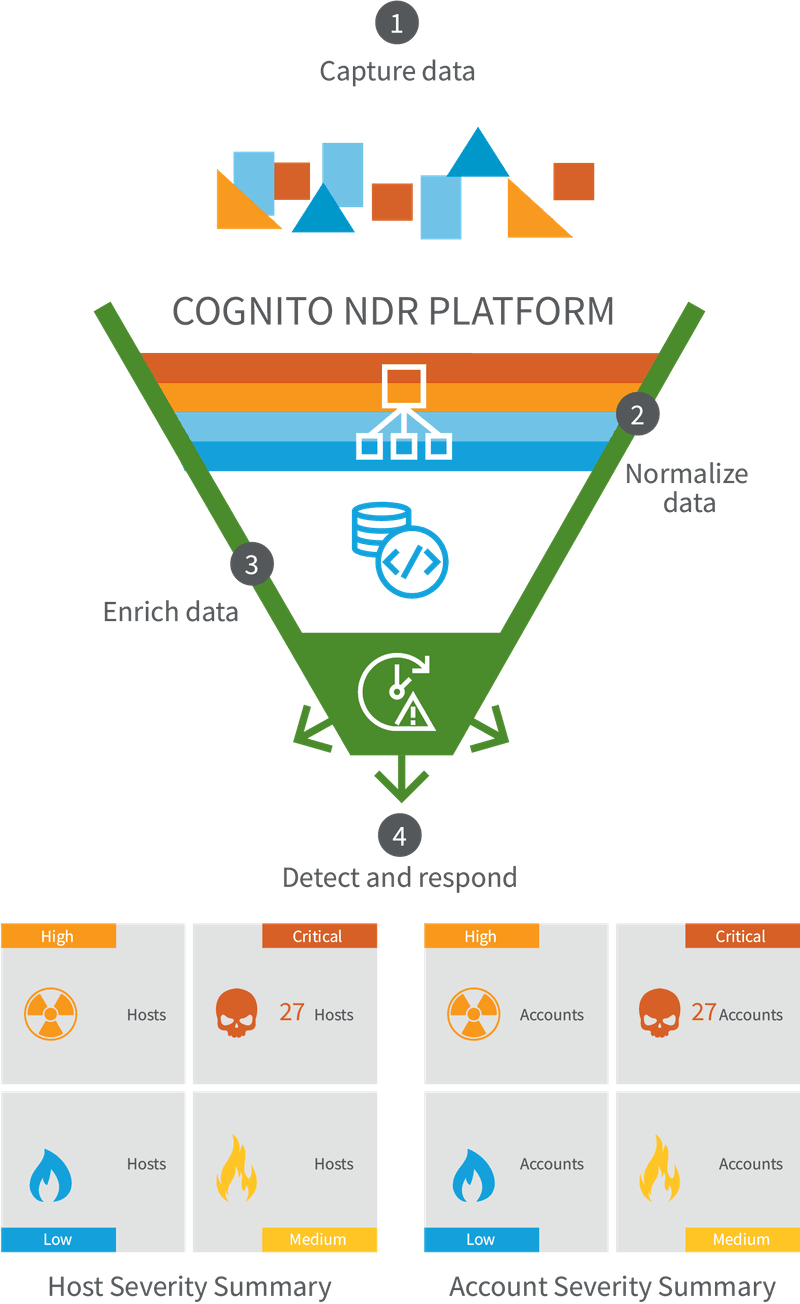 Automates threat detections
Always-learning behavioral models use AI to efficiently find hidden and unknown attackers in real time to enable quick, decisive action and provide a clear starting point for AI-assisted threat hunting and response.
Empowers threat hunters
Launch deeper and broader investigations of incidents detected by Cognito and other security controls and hunt retrospectively for undetected threats. Security insights automatically sorts and presents relevant information on detections, speeding up investigations.
Provides visibility across entire deployment
Real time collection, analysis and storage of rich network metadata, relevant logs and cloud events provides high-fidelity visibility into the actions of all cloud and data center workloads, and user and IoT devices, leaving attackers with nowhere to hide.
Captures once and does many things
One platform collects, analyzes and enriches metadata, augmented by relevant logs and cloud events, to enable real time automated attack detection, AI-assisted threat hunting, retrospective threat hunting and incident investigation.
Achieve Faster Threat Detection and Response | Vectra AI
Pricing Information:
Contact Us
to architect best & competitive solution meeting your personalized requirements.
Ready to get your hands on our AI Driven NDR ?
Enable GingerCannot connect to Ginger Check your internet connection
or reload the browserDisable in this text fieldRephraseRephrase current sentenceEdit in Ginger×
Enable GingerCannot connect to Ginger Check your internet connection
or reload the browserDisable in this text fieldRephraseRephrase current sentenceEdit in Ginger×
Enable GingerCannot connect to Ginger Check your internet connection
or reload the browserDisable in this text fieldRephraseRephrase current sentenceEdit in Ginger×
Enable GingerCannot connect to Ginger Check your internet connection
or reload the browserDisable in this text fieldRephraseRephrase current sentenceEdit in Ginger×
Enable GingerCannot connect to Ginger Check your internet connection
or reload the browserDisable in this text fieldRephraseRephrase current sentenceEdit in Ginger×
Enable GingerCannot connect to Ginger Check your internet connection
or reload the browserDisable in this text fieldRephraseRephrase current sentenceEdit in Ginger×
Enable GingerCannot connect to Ginger Check your internet connection
or reload the browserDisable in this text fieldRephraseRephrase current sentenceEdit in Ginger×
Enable GingerCannot connect to Ginger Check your internet connection
or reload the browserDisable in this text fieldRephraseRephrase current sentenceEdit in Ginger×
Enable GingerCannot connect to Ginger Check your internet connection
or reload the browserDisable in this text fieldRephraseRephrase current sentenceEdit in Ginger×
Enable GingerCannot connect to Ginger Check your internet connection
or reload the browserDisable in this text fieldRephraseRephrase current sentenceEdit in Ginger×