The Securonix platform automates security operations while our analytics capabilities reduces noise, fine tunes alerts, and identifies threats both inside and out of the enterprise. The Securonix platform delivers analytics driven SIEM, SOAR, and NTA, with UEBA at its core, as a pure cloud solution without compromise.
Collect, detect, and respond to threats using a single, scalable platform based on machine learning and behavioural analytics. With a focus on outputs, Securonix manages the SIEM so you can focus on responding to threats. Machine learning, and threat modelling verification, including the MITRE ATT&CK Framework, automates alert handling and speeds up threat detection, validation, and response.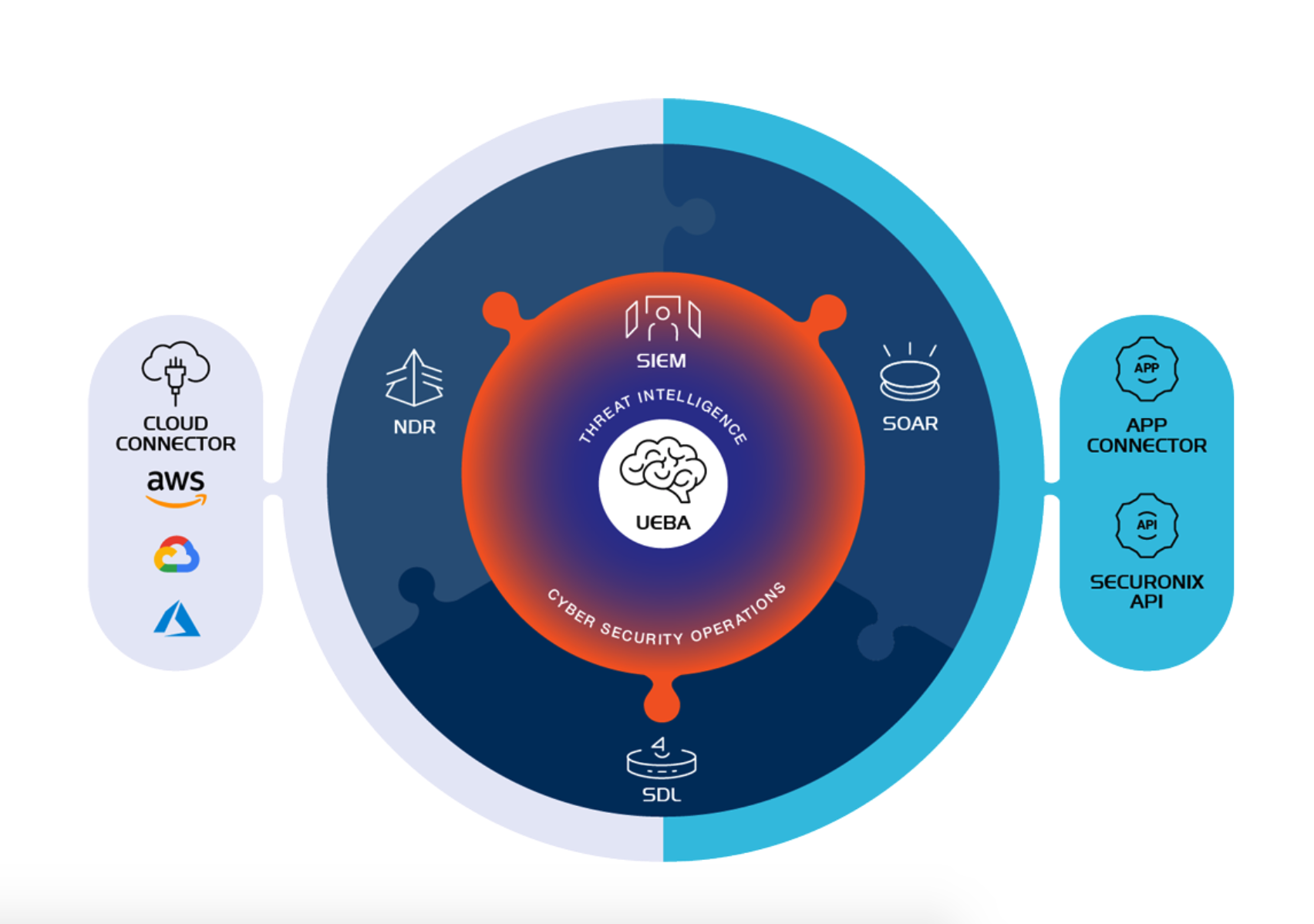 · Solve Security Challenges With Next-Generation SIEM
Legacy, signature based SIEMs aren't effective at detecting advanced threats.
The only way to catch a sophisticated attacker in time is to leverage advanced analytics within your SIEM. Stay ahead of the attackers by using technology such as machine learning to give your security team better insights and less false positives.
Built on big data, Securonix Next-Gen SIEM combines log management; user and entity behaviour analytics (UEBA); and security orchestration, automation, and response into a complete, end-to-end security operations platform. It collects massive volumes of data in real time, uses patented machine learning algorithms to detect advanced threats, and provides artificial intelligence-based security incident response capabilities for fast remediation.
· UEBA for Enterprise Security
Securonix UEBA leverages sophisticated machine learning and behaviour analytics to analyze and correlate interactions between users, systems, applications, IP addresses, and data. Light, nimble, and quick to deploy, Securonix UEBA detects advanced insider threats, cyber threats, fraud, cloud data compromise, and non-compliance. Built-in automated response playbooks and customizable case management workflows allow your security team to respond to threats quickly, accurately, and efficiently.
Securonix Next-Gen SIEM Explained:
Pricing Information:
Contact Us to architect best & competitive solution meeting your personalized requirements.
Ready to get your hands on our Next-Generation SIEM ?
Enable GingerCannot connect to Ginger Check your internet connection
or reload the browserDisable in this text fieldRephraseRephrase current sentenceEdit in Ginger×
Enable GingerCannot connect to Ginger Check your internet connection
or reload the browserDisable in this text fieldRephraseRephrase current sentenceEdit in Ginger×
Enable GingerCannot connect to Ginger Check your internet connection
or reload the browserDisable in this text fieldRephraseRephrase current sentenceEdit in Ginger×
Enable GingerCannot connect to Ginger Check your internet connection
or reload the browserDisable in this text fieldRephraseRephrase current sentenceEdit in Ginger×
Enable GingerCannot connect to Ginger Check your internet connection
or reload the browserDisable in this text fieldRephraseRephrase current sentenceEdit in Ginger×
Enable GingerCannot connect to Ginger Check your internet connection
or reload the browserDisable in this text fieldRephraseRephrase current sentenceEdit in Ginger×
Enable GingerCannot connect to Ginger Check your internet connection
or reload the browserDisable in this text fieldRephraseRephrase current sentenceEdit in Ginger×
Enable GingerCannot connect to Ginger Check your internet connection
or reload the browserDisable in this text fieldRephraseRephrase current sentenceEdit in Ginger×
Enable GingerCannot connect to Ginger Check your internet connection
or reload the browserDisable in this text fieldRephraseRephrase current sentenceEdit in Ginger×
Enable GingerCannot connect to Ginger Check your internet connection
or reload the browserDisable in this text fieldRephraseRephrase current sentenceEdit in Ginger×
Enable GingerCannot connect to Ginger Check your internet connection
or reload the browserDisable in this text fieldRephraseRephrase current sentenceEdit in Ginger×
Enable GingerCannot connect to Ginger Check your internet connection
or reload the browserDisable in this text fieldRephraseRephrase current sentenceEdit in Ginger×
Enable GingerCannot connect to Ginger Check your internet connection
or reload the browserDisable in this text fieldRephraseRephrase current sentenceEdit in Ginger×
Enable GingerCannot connect to Ginger Check your internet connection
or reload the browserDisable in this text fieldRephraseRephrase current sentenceEdit in Ginger×
Enable GingerCannot connect to Ginger Check your internet connection
or reload the browserDisable in this text fieldRephraseRephrase current sentenceEdit in Ginger×
Enable GingerCannot connect to Ginger Check your internet connection
or reload the browserDisable in this text fieldRephraseRephrase current sentenceEdit in Ginger×
Enable GingerCannot connect to Ginger Check your internet connection
or reload the browserDisable in this text fieldRephraseRephrase current sentenceEdit in Ginger×
Enable GingerCannot connect to Ginger Check your internet connection
or reload the browserDisable in this text fieldRephraseRephrase current sentenceEdit in Ginger×
Enable GingerCannot connect to Ginger Check your internet connection
or reload the browserDisable in this text fieldRephraseRephrase current sentenceEdit in Ginger×