Enterprise-Grade Security For Any Business
Email, Cloud Apps, Endpoint Security and Data Loss Prevention in one platform.
Right out of the box, we automatically secure your cloud applications, email, and endpoints to intelligently stop data leaks, regulatory violations, and ransomware or malware. Allowing you and your team to focus on the work that matters.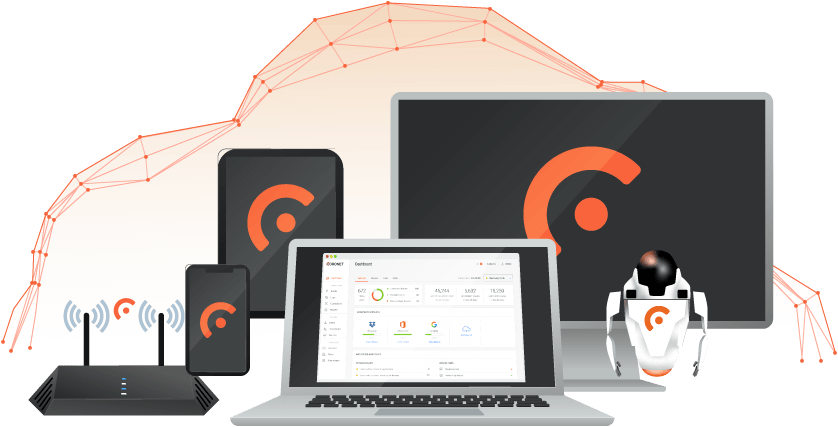 Cloud App Security
Thanks to our AI engine, all cloud app accounts are protected 24/7 from data leakage, malware and ransomware spread, and regulatory violations. Our AI-based monitors not only detect a threat, but automatically mitigate it.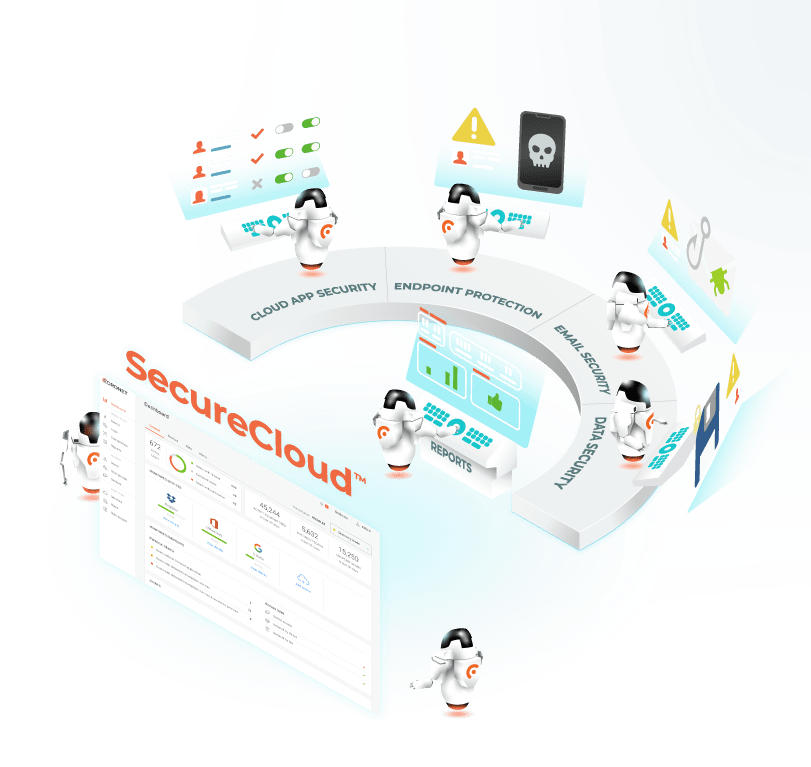 Email Security
As with all cyber attacks, phishing tactics have advanced, and malicious emails are harder to identify than ever. SecureCloud uses Domain-based Message Authentication to make it harder for spoofed or modified emails to hit your workforce's inbox.
SecureCloud actively tracks and manages all hardware devices used by your workforce, whether on your company's network or not. Our endpoint security agent can identify risky device configurations and malicious apps.
Our Data Loss Prevention engine automatically identifies, blocks, and alerts you to unauthorized sharing and leaks of your most sensitive data, including violations in PII / PHI / PCI compliance. Regularly generated reports provide ongoing insights into how the engine has worked for you.

Enable GingerCannot connect to Ginger Check your internet connection
or reload the browserDisable in this text fieldRephraseRephrase current sentenceLog in to edit with Ginger×
Enable GingerCannot connect to Ginger Check your internet connection
or reload the browserDisable in this text fieldRephraseRephrase current sentenceEdit in Ginger×
Enable GingerCannot connect to Ginger Check your internet connection
or reload the browserDisable in this text fieldRephraseRephrase current sentenceEdit in Ginger×
Enable GingerCannot connect to Ginger Check your internet connection
or reload the browserDisable in this text fieldRephraseRephrase current sentenceEdit in Ginger×
Enable GingerCannot connect to Ginger Check your internet connection
or reload the browserDisable in this text fieldRephraseRephrase current sentenceEdit in Ginger×
Enable GingerCannot connect to Ginger Check your internet connection
or reload the browserDisable in this text fieldRephraseRephrase current sentenceEdit in Ginger×
Enable GingerCannot connect to Ginger Check your internet connection
or reload the browserDisable in this text fieldRephraseRephrase current sentenceEdit in Ginger×
Enable GingerCannot connect to Ginger Check your internet connection
or reload the browserDisable in this text fieldRephraseRephrase current sentenceEdit in Ginger×
Enable GingerCannot connect to Ginger Check your internet connection
or reload the browserDisable in this text fieldRephraseRephrase current sentenceEdit in Ginger×