Enable Ginger
Cofense® is the leading provider of phishing detection and response solutions. Designed for enterprise organizations, the Cofense Phishing Detection and Response (PDR) platform leverages a global network of over 25 million people actively reporting suspected phish, combined with advanced automation to stop phishing attacks faster and stay ahead of breaches. When deploying the full suite of Cofense solutions, organizations can educate employees on how to identify and report phish, detect phish in their environment and respond quickly to remediate threats.
With seamless integration into most major TIPs, SIEMs, and SOARs, Cofense solutions easily align with existing security ecosystems. Across a broad set of Global 1000 enterprise customers, including defense, energy, financial services, healthcare and manufacturing sectors, Cofense understands how to improve security, aid incident response and reduce the risk of compromise.
Cofense Phishing Detection and Response platform catches the phishing emails that your secure email gateway inevitably misses. We deliver the technology and insight needed to detect, analyze, and stop phishing attacks.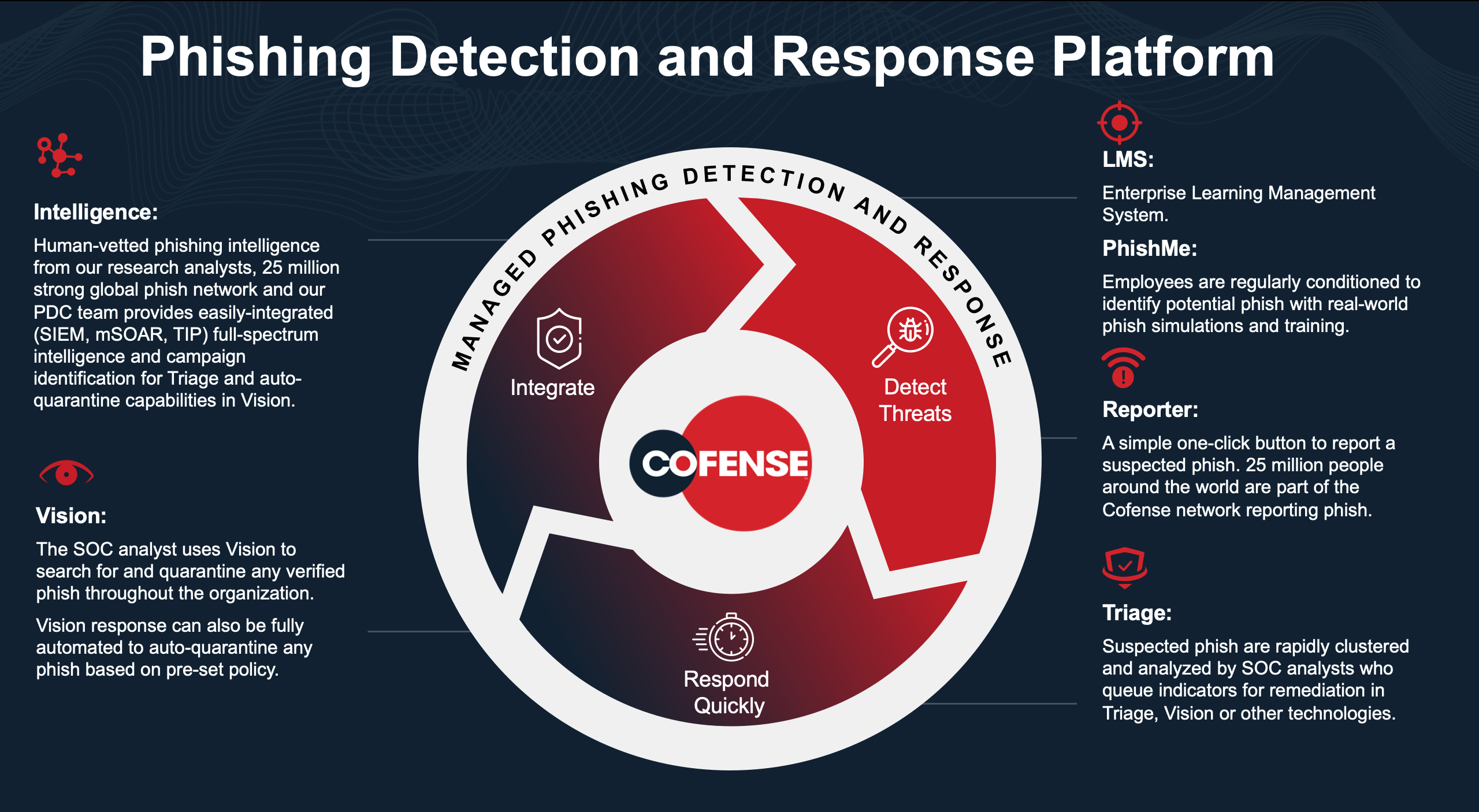 With the Cofense PDR Platform, you get:
· A global network of 25 million people actively identifying and reporting suspected phish
· Automation technology to quickly analyze, verify and quarantine phish throughout an organization
· Shared intelligence across teams and with others in a global network
· Effective, real-world phish simulation training
· Solutions delivered as integrated products or managed service
Cofense's PDR platform can be deployed as an integrated suite of products or as a comprehensive managed PDR service through our
Phishing Defense Center
(PDC).
Both options effectively stop phishing attacks and combat the acuity of attackers through a combination of people and automated technology that quickly reduces and removes the risk.
Cofense: Comprehensive Phishing Detection & Response
Pricing Information:
Contact Us to architect best & competitive solution meeting your personalized requirements.
Ready to get your hands on our
Comprehensive Phishing Detection & Response solution
?
Enable GingerCannot connect to Ginger Check your internet connection
or reload the browserDisable in this text fieldRephraseRephrase current sentenceEdit in Ginger×
Enable GingerCannot connect to Ginger Check your internet connection
or reload the browserDisable in this text fieldRephraseRephrase current sentenceEdit in Ginger×
Enable GingerCannot connect to Ginger Check your internet connection
or reload the browserDisable in this text fieldRephraseRephrase current sentenceEdit in Ginger×
Enable GingerCannot connect to Ginger Check your internet connection
or reload the browserDisable in this text fieldRephraseRephrase current sentenceEdit in Ginger×