Checkmarx for Mobile Application Security Testing (MAST) is an enterprise-grade, unified platform that binds Security with DevOps cultures. Our offering delivers unique and dedicated analysis for iOS and Android (Java) applications as well as for backend services, ensuring security is an integral part of the application development process. Our offering reduces the time to remediate by identifying and triaging code vulnerabilities during the early stages of the Software Development Life Cycle (SDLC).
Checkmarx Software Security Platform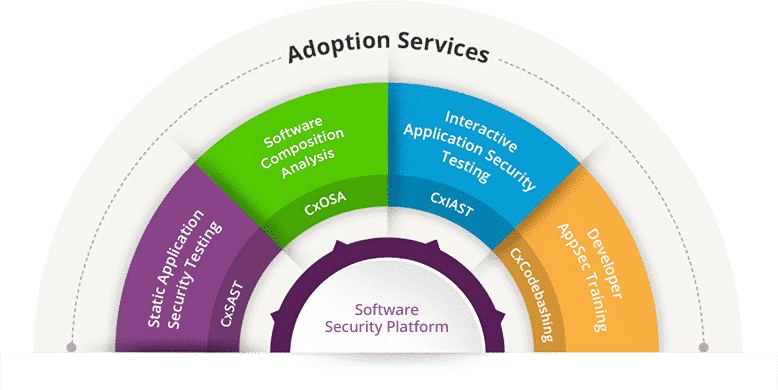 Supporting over 22 coding and scripting languages and their frameworks with zero configuration to scan any language.
· Ease of Automation
Checkmarx Mobile AST offering integrates with SDLC tools, IDEs, bug tracking systems, and CI servers –
making it easy to deploy and integrate into your systems.
· Increase Checkmarx Mobile AST Awareness in Your Organization
An important part of our Checkmarx Mobile AST offering is Checkmarx Codebashing. It initiates application
security awareness even before writing a single line of code.
· Built To Address Your Organization's Needs
When it comes to implementation, Checkmarx Software Security Platform provides a full scope of options, including private cloud and on-premises solutions. Allowing a range of implementation options ensures
customers can start securing their code immediately, rather than going through long processes of adapting
their infrastructure to a single implementation method.
MORE INNOVATION
LESS COST
Pricing Information:
Contact Us to architect best & competitive solution meeting your personalized requirements.
Ready to get your hands on Application Security ?
Book your POC & Take an Ultimate Test Drive.
Enable GingerCannot connect to Ginger Check your internet connection
or reload the browserDisable in this text fieldRephraseRephrase current sentenceEdit in Ginger×
Enable GingerCannot connect to Ginger Check your internet connection
or reload the browserDisable in this text fieldRephraseRephrase current sentenceEdit in Ginger×
Enable GingerCannot connect to Ginger Check your internet connection
or reload the browserDisable in this text fieldRephraseRephrase current sentenceEdit in Ginger×
Enable GingerCannot connect to Ginger Check your internet connection
or reload the browserDisable in this text fieldRephraseRephrase current sentenceEdit in Ginger×
Enable GingerCannot connect to Ginger Check your internet connection
or reload the browserDisable in this text fieldRephraseRephrase current sentenceEdit in Ginger×
Enable GingerCannot connect to Ginger Check your internet connection
or reload the browserDisable in this text fieldRephraseRephrase current sentenceEdit in Ginger×
Enable GingerCannot connect to Ginger Check your internet connection
or reload the browserDisable in this text fieldRephraseRephrase current sentenceEdit in Ginger×
Enable GingerCannot connect to Ginger Check your internet connection
or reload the browserDisable in this text fieldRephraseRephrase current sentenceEdit in Ginger×
Enable GingerCannot connect to Ginger Check your internet connection
or reload the browserDisable in this text fieldRephraseRephrase current sentenceEdit in Ginger×